Annapolis Dental Center
Annapolis Dental Center is committed to a gentle caring approach that focuses on esthetic beauty and the long-lasting health of your smile! Dr. Dele and his team understand the connection between the health of your mouth to overall wellness and go that extra mile to provide the most comprehensive, advanced care available in a professional personalized environment.
Our Team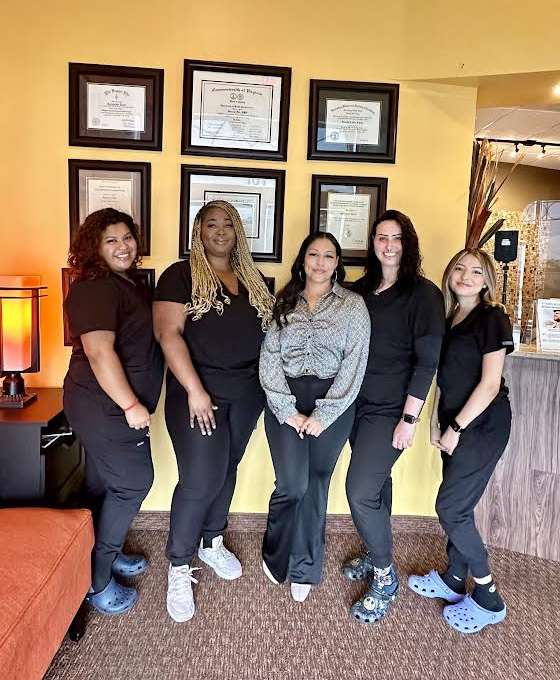 Comprehensive General and Preventative Family Dentistry
Regular visits to our office ensure that your teeth and mouth remain as healthy as possible. We provide thorough examinations and preventative, professional cleanings to all our patients. Whether it is your first visit or one of many, our focus is to detect and address any dental issues early so that you can maintain good oral health and avoid costly treatment in the future. We partner with you to help you maintain an excellent level of oral health for a lifetime. Every recommendation from our team will reflect our strong commitment to excellence.
Children's Dentistry
As a family practice, we care for your children all the way through adolescence. Our desire is that patients of any age experience a positive nurturing environment when visiting for cleanings or more advanced procedures. Our team is especially sensitive to the needs and anxiety of younger patients.
Cosmetic and Restorative Options
We provide a range of restorative services to help you maintain, enhance, or rejuvenate your smile. Dr. Dele believes in being comprehensive yet conservative in his approach and there is no one size fits all approach in his treatment recommendations. At Annapolis Dental Center we use the proper material to fit the need presented. Our procedures include cosmetic bonding, porcelain crowns, porcelain veneers, gum lifts or gingival re-contouring, and tooth whitening. In many cases treatment needs can be addressed in one visit leaving and you leave with a confident smile that looks young and vibrant.
Insurance Friendly with Affordable Payment Options
At Annapolis Dental Center we accept payment from most insurance plans and are fully committed to making the treatment you need affordable. We understand the difficult balance that today's families face and have a zero percent payment plan with Care Credit available to help with any out of pocket costs associated with your treatment. For those patients that are uninsured we have a special IN HOUSE program available and are committed to work within your family budget so that you will be able to service the dental needs of your family.
Comfortable State of the Art Office
Annapolis Dental Center has been designed with the patient in mind. We go to great lengths to provide the most comfortable relaxing environment possible to help you feel calm and confident when you visit. We know your time is valuable and we want to respect your appointment time, therefore we have completely automated the necessary forms so that you may complete them before your appointed time. Simply click here! We incorporate many new techniques and the most advanced dental technology to enhance our ability to proactively and quickly diagnose and treat our patients. Dr. Dele and staff are highly trained and proficient in the use of the most modern treatment advances in dentistry.
Convenient Location and Hours
Annapolis Dental Center is located at 161 Jennifer Rd directly across from the Annapolis Mall! We are open Monday through Friday and two Saturdays a month and have appointment hours available from 8 am until 7 pm on certain days of the week. Please call us and we will do our very best to accommodate your busy schedule.